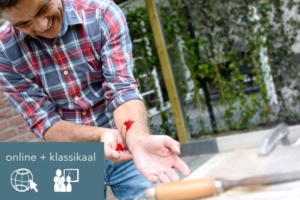 Learn all basic first aid skills

Including resuscitation and AED
8 hours online + 4 hours classical
First Aid Course [online + classical]
Learn all the skills to provide first aid, including CPR and using an AED, in this first aid course.
COURSE INFORMATION
During this first aid course you will learn all the skills needed to provide adequate first aid, including CPR and the use of an AED. You learn how to bring a victim to safety, assess the condition and alert the emergency services.
Under the guidance of a certified Red Cross instructor you will learn to provide first aid to a victim with unconsciousness, contusion, sprain, choking/choking, dislocation, skin wound, broken bone, hemorrhage, poisoning, burn, neck and spinal injury, chest pain and stroke.
If you successfully complete the course, you will receive a European recognized Red Cross first aid certificate after the course. The certificate is valid for two years and can be renewed by following a refresher course.
NB:
The e-learning will be added to your Heartbeat account (Red Cross student administration system) within a few days after placing your order in the webshop, by the organizer who provides the classroom part of the course. The online module is accessible for 1 year after purchase.
You will receive the login details of your Heartbeat account by e-mail within a few minutes after placing your order via the webshop.
At the beginning of the classroom course, the instructor checks whether you have completed the e-learning. Only with a completed e-learning can you participate in the classroom part.
| | |
| --- | --- |
| Taal / language | Engelstalig/English |
| What do you want to learn? | First aid including CPR/AED |
| Is this a refresher course? | No |
| Who do you want to be able to help? | First aid on adults |
| You will learn (to apply first aid with) | Stroke, Unconsciousness with breathing, Haemorrhage, Fractures, Burns, Head and vertebral injuries, Skin wounds, Bruises, Dislocation, Chest pain, CPR & AED, Muscle cramp, Muscle laceration (whip), Poisoning, Choking/Suffocation |
| How do you want to learn? | Online + classical |
| What d0  you get after successfully finishing this courser? | Red Cross certificate  (EFAC, European recognized) |
| Validity certificate | 2 years |
| Meets the requirements of | Official Red Cross guidelines |